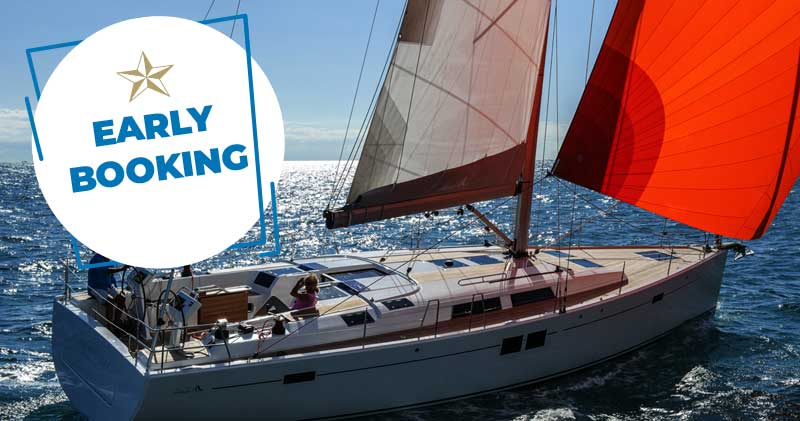 EARLY BOOKING DISCOUNTS FOR CHARTER – 2020
¿What´s EARLY BOOKING?
Early Booking is a discount for anticipate reservations for week Charters, normally for all kind of boats, in all destinations, and for Season 2020, even for summer!
This discount is valid for reservations confirmed before January 31st although some boats accept discounts also for confirmations in February.
This offer is valid in most of our fleet, and the discount will depend on the period you want to charger (larger charter, bigger discount) and on the boat. You can find your BOAT FOR CHARTER and destination HERE
Last season, more than half of our clients reserved their boats for charter with anticipation so they could get this discount, and more advantages:
EARLY BOOKING ADVANTAJES:
Discounts: The most obvious is the discount you get for anticipate reservation. Most of our boats have 10% discount, but  if you rent for two weeks you can get up to 15% discount!
YOUR PREFERRED BOAT WILL BE AVAILABLE: if you search your boat only one or two months before your charter, it´s more than possible that all good boats are already booked and you will have to rent a boat you don't like 100%. NOW, if you tell us what kind of boat you are looking for and your approx. budget using our QUICK COTE you will have more boats where to find the best for you!
Cheaper transfer: if you have decided to travel to Balearics or Canary islands, or your destination is not your own country… your flights, train tickets and car rental will be cheaper if you reserve them with enough time.
Enjoy from NOW! Or it´s not true that you also enjoy planning the route, looking for small coves where you swim and anchor, the best restaurants, activities to do… Our charter team will also help you about all this issues.
¿WHAT CAN YOU DO TO GET EARLY BOOKING DISCOUNT?
A charter date: You only need to know the exact date when you want to charter the boat. Maybe it can seem a bit complicated to make a decision like that with months, but, if more than 50% of our clients can, you also can! It´s not an imposible missión.
A destination: Now, as we have grown thank you to our clients, you can charter a boat with us in any place that you wish. We will find your boat in any destination and according to your budget. We offer catamarans, sailing yachts, motor yachts, great crewed yachts… If you want to visit another destination out of Spain, ask us. We will help you and you will only worry about enjoy.
Once you have made the reservation with us, you only have to think about the last details and wait for your charter time!
---
Contact: charter@marinaestrella.com
Telephone: 965.14.22.37 / 935.40.39.00
Mobile and What´s App: 0034 669 73 70 05
Share